Forum des halles is one of the most busy  shopping malls in the heart of Paris. Fifty million people pass through each year.
The decision was taken to create a digital interactive directory to help people find the right services and to orient themselves through the four levels of shops and cultural places.
After having initiated the project with L'île des Médias, an interactive agency  specialised in software,  the Forum des Halles asked a design school, ESAG Penninghen to create a new concept for the directory. Thirty students were involved in the first step, six projects were selected, six groups were organised for presenting six final projects.
The selected project, COCOTTE, is now installed in the Forum  and it is a real success.
Following my own experience, the majority of partnerships between companies and design schools never succeed.
This is why it is important to report this successfull case and, as the the person in charge for this project development for ESAG, I want to underline what is outstanding in this project :
The open mind and creative will of the Forum des Halles managers.
Their capacity to take a decision for a real original concept.
The very short planning : Six months from the briefing to the installation.
The involvement and the professionalism of the students.
The real flexibility and attention between all the partners to follow up the sense of the concept.
Easier than in the professional life…
Jean Pierre Vitrac. Designer, intervenant à l'Esag Penninghen.
ESAG Penninghen Ecole supérieure de design, d'art graphique et d'architecture intérieure.
COCOTTE « shopping partner ».
Students in charge of the project (5th grade in strategic design – esag) : Pierre Augais [1] – Julie Boniche [2] – Laure Capdevielle [3] – Nils Darsonval [4] – Bertrand Gabin [5].
Forum des Halles [6].
L'île des médias, interactive agency [7].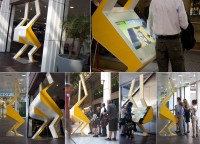 [8]