We must first of all describe where this event took place : the Giardini and the Arsenal with its corderie. Pavilions from many different countries were built in the Giardini in the 1910s-1920s and are now used for the Architecture as well as the Art biennale. As for the Arsenal, it offers huge spaces and a special atmosphere, half derelict half rehabilitated.
Every year, for our greatest joy, the Arsenal gets new plots from the wasteland and unoccupied buildings. And year after year, the Biennales can be considered as a "ritual" which include the premises as well as the exhibits.
The exhibits are chosen and created by the various participating countries and the obvious differences on a same theme are sometimes baffling.
For the newcomers, there were undoubtedly many things to discover. For the regulars (but not blasés) , this year did not offer any exciting novelties despite some good quality presentations. No tremors, no claims, as if our time was keeping a low profile. The quality in general was good with impeccable presentations although the content was unsurprising. This year's general theme was "common ground", that is common and collective spaces in specific contexts of time , events and culture for each country.
A social and political speech, more retrospective than visionary giving a feeling of tedium. The Past is acknowledged, and in the Future everybody will have to play their role in our difficult social and economical context. As for the reoccurring question : what is the role of architecture and the architect?
Despite all this, there were some surprises : the Russian pavilion showed an interesting scenography based on the QR code which generated a unique graphic architecture. I-pads were given at the beginning of the visit, allowing the visitors to go around and scan the codes in order to discover the subjects. The experience and interaction were so engrossing that the contents were forgotten, but never mind.
There was also a magical and surprising project, obvious and full of intelligence : AIR + PORT, for Greenland. This was the only innovative and inspiring project because it captured new ideas and displayed the potential of creativity. A particular context, a solution (not necessarily the only one) which seemed obvious : this is when creativity is a pleasure.
Apart from all this, walking around the exhibition was enjoyable , taking in the atmosphere and thousands of details.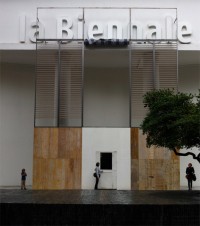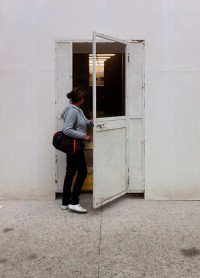 Russian pavilion.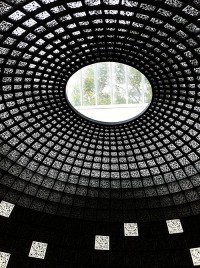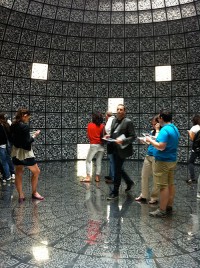 AIR+PORT, GLOBAL HUB project supported by The Danish Art Foundation, Tegnestuen Nuuk, BIG, Bjarke Ingels Group and Julie Edel Hardenberg, Inuk Silis Hoegh.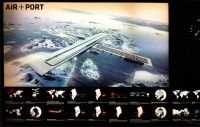 Canadian pavillion : Emerging landscapes by Felix Tue : layered habitat.